CI 150mm Foot Valve - Ball Type - NORMAX Make
CI 150mm Foot Valve - Ball Type - NORMAX Make
---
30-day money-back guarantee
Buy now, get in 2 days
Normex Ball Foot Valves has received a special status in negative suction pumping applications. Normex Ball foot valve is regarded as the most reliable, 100% leakproof foot valves. & is the only solution for a typical priming problem.





In the application where the foot valve is involved, the main concern of the user is letting away of media by the foot valve. This calls for the 'priming.' of the pump which is a time-consuming & tedious job. If the "on-off frequency" is more, the trouble rises multi-folds. A heavily leaking foot valve can also give rise to start up trouble to pump as suction line never gets filled completely. A leaking foot valve can cause not only time wastage but also delay in the process industry where water is required at a particular instant.
In a typical case of Fire fighting application, if foot valve leaks, the pump is not started can cause damage to property as well as life.
Even in application in the irrigation / agriculture sector, where electricity is available for a limited time & intermittent (in rural India) priming pump every time/any time of day & night is a loss to pumping time.




With Ball foot valve (Threaded or Flanged) installed the frequent priming is totally avoided for very long span months to years.
Normex Ball foot valves (along with Ball Check & Butterfly valves) are regularly & exclusively recommended by many consultants for many years. The Plumbing, Fire, HVAC, Irrigation contractors are also convinced by the reliability of these valves all leading to customer satisfaction.

The principal features & comparison of foot valves are similar to Ball Check valves(B-01).
| | |
| --- | --- |
| DESCRIPTION | MATERIAL OF CONSTRUCTION |
| BODY/STRAINER | CAST IRON (GG25) |
| BALL | NITRILE REINFORCED |
| SEALING RING | NITRILE UPTO 80mm |
| FASTENERS | CARBON STEEL |
| PAINT | ENAMEL PAINT |
| END CONNECTION | FLANGED |
| | |
| --- | --- |
| SIZE RANGE | 50mm TO 200mm |
| PRESSURE TESTING | BODY: 1.5 X PN |
|   | SEAT : 1.1 X PN |
|   |   |
| PRESSURE  RATING -KPa |   |
| 50mm  TO  200mm | PN 0.6 |
|   |   |
|   |   |
| INSTALLATION | VERTICAL |
| TEMPERATURE | SUITABLE UPTO 800C |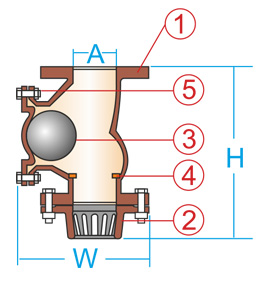 1) Ball foot valve(Flanged): Model B-05(N)
These flanged foot valves are available from 50mm to 200mm sizes with 6.0 kg/cm2 working pressure.
2) Ball Foot valve (Flanged) B-05

These are the check valves converted to foot valves by installing strainer to the inlet side.

They are generally recommended for sizes of 250mm,300mm & 350mm NB.However,smaller sizes from 25mm TO 200mm are available & can withstand pressures of 16/10 kg/cm2 depending on size.

For normal application Model B-05(N) is recommended in the sizes from 50mm to 200mm.
| | | |
| --- | --- | --- |
| DESCRIPTION | STANDARD MATERIAL | ON REQUEST |
| BODY/COVER/STRAINER | CAST IRON (GG25) | S.G.IRON(DI)/WCB/ST.STEEL |
| BALL | NITRILE REINFORCED | NEOPRENE/EPDM |
| SEAT RING | L T BRONZE | ST.STEEL |
| FASTENERS | CARBON STEEL | ST. STEEL |
| PAINT | ENAMEL/EPOXY  PAINT |   |
| END CONNECTION | FLANGED |   |
| | |
| --- | --- |
| SIZE RANGE | 25mm TO 350mm |
| PRESSURE TESTING | BODY: 1.5 X PN |
|   | SEAT : 1.1 X PN |
|   |   |
| PRESSURE RATING -KPa |   |
| 25mm TO 125mm | PN 1.6 |
| 150mm TO 300mm | PN 1.0 |
| 350mm | PN 0.6 |
| INSTALLATION | VERTICAL |
| TEMPERATURE | SUITABLE UPTO 800C |
 Dimensions ( Valve size in mm)
| | | | | | | | | | | | | |
| --- | --- | --- | --- | --- | --- | --- | --- | --- | --- | --- | --- | --- |
| Size (A) | 25 | 40 | 50 | 65 | 80 | 100 | 125 | 150 | 200 | 250 | 300 | 350 |
| H | 185 | 225 | 185 | 235 | 260 | 310 | 370 | 435 | 540 | 830 | 970 | 1100 |
| W | 115 | 160 | 170 | 200 | 230 | 265 | 325 | 380 | 495 | 570 | 680 | 795 |
Technical comparison of Normex Foot Valve  - Ball type is the same as described in Normex Check Valve - Ball type
Specifications for CI 150mm Foot Valve - Ball Type - NORMAX Make
Design Parameters

Size

150mm (6")

Type of Connection

FLANGED

Pressure Rating

PN 10

MoC (Material of Construction)

MOC - Body/All Parts

Cast Iron

Ball

NITRILE REINFORCED

General

Brand

Normex

ISI Marked?

Yes

Guarantee (From Manufacturing Defect)

1 year